Click here or on the picture above to Order Bottom Feeder!

Bottom Feeder
a novel by Mark Spitzer

Six miles into Phantom Loon Lake, Ontario, a swell can sometimes be seen rising at dusk. The swell is Old Shithead, the last known surviving Copper Lake catfish on the planet, a creature of unmentionable proportions. For centuries, the legend of this lunkercat has grown larger than the mythic Big One itself. Bottom Feeder is the myth of a modern cast of wacky characters who all have different fish stories about Old Shithead.
"A big fish as old as America lives at the bottom of Spitzer's drifting contemporaries' minds. This is a novel redolent of the sap and sorrow of the North country, its byways as raw as fishguts and its heart as red as the vanishing lakes."
-Andrei Codrescu
"Welcome to the Zipping, Zinging, adrenalized world of Mark Spitzer. A world rendered in the bold colors of a fauve painting; and a world of spark and verve and 'emagination,' of Grizzly professors and cig-shaking codgers and giant catfish, characters who dance through this great Whale of a fish story, making us think while they make us laugh."
-David Gessner, Author of A Wild, Rank Place
and Under the Devil's Thumb
"At once comedic and strangely melancholy, Bottom Feeder is a quintessentially American book. Spitzer is a young writer to watch: he is coming on strong, and there is no stopping him."
-Luis'Alberto Urrea
Author of Nobody's Son
and Across the Wire
Mark Spitzer grew up fishing the Mississippi River. He received his BA from the University of Minnesota and his MA from the University of Colorado, and his MFA from Louisiana State University.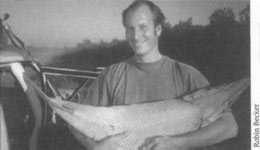 Photo by Robin Becker